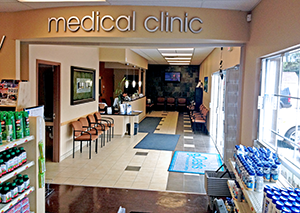 Edmonton Trail Pharmasave is a professional dispensary located adjacent to the Crescent Heights Medical Clinic. Serving the Crescent Heights, Renfrew and surrounding communities our pharmacists are pleased to be involved with the health care of residents in these areas. We are a brand new facility offering all the traditional services and more that you would expect from a pharmacy. Travel consultations, Diabetes Management, Compounding, and injection services are just a few of our specalties.
Our Pharmacy team at Edmonton Trail Pharmasave is here to help you manage all your family's medication and health care needs. From providing advice on what to take for a common cold to informing you all about a new prescription medication, our team is here to help.
Pharmacists are recognized as being the most accessible health care providers in a community. We are also an excellent source of health information. We are an important part of your health care team as we not only consult with you, but also your doctors, and other health care workers to achieve the best possible health outcomes for you. When you have your prescription filled with us at Edmonton Trail Pharmasave we will:
Review each prescription drug and dosage for you.
Screen your file for any allergic reactions and any possible drug interactions.
Ensure that you understand why you are taking the medication.
Ensure that you understand how the medication works, how it should be taken and any side effects to watch for.
Be available to answer any questions that you may have.