Ideal Protein Weight Loss Coaches
Brenda Lee (Co-Owner)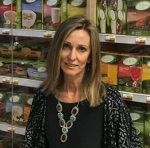 Brenda enjoys helping people attain their goals. She has a great knowledge on diet and exercise and practices a healthy lifestyle.
She understands that many dieters have tried to lose weight in the past with other diets. The problem is the weight comes back once the diet is completed. That is the difference with Ideal Protein Weight Loss Method. Not only can she coach you on how to get the weight off, but she can coach you how to keep the weight off. The program has 4 phases, with phase 1 and 2 focused on attaining your goal weight. Phase 3 and 4 are focused on how to maintain the weight loss.
Brenda will meet with you one-on-one and understand your goals. She will monitor your progress and help you through issues as they arise and then she will coach you how to maintain your weight loss.
Dave Robertson, Pharmacist (Co-owner)

Dave is a keen pharmacist ready to tackle the trickiest of problems. Dave understands the negative medical effects that excess weights can cause for the patient and has a great desire to help his clients conquer their excess weight. That is why Dave has become an Ideal Protein Weight Loss coach as he believes in the program and has seen its success. Weight loss will have an improvement on overall health and generally make the client feel better physically and mentally.
Medical conditions such as Type II Diabetes, arthritis, and others can be improved by weight loss with a supervised program such as Ideal Protein.
With over 30 years of experience in pharmacy Dave has honed his specialties to include:
Ideal Protein Weight Loss Coach
Ability to Prescribe Medications
Compounding Pharmacist
Compound Pain Management Certification
Injection Services
Certified in First Line Therapy provider
Medication Review
Come and ask him how he can help you.