Apple Crisp
Ready in: 15
Serves: 6
Complexity: easy
kcal: 361
Carb: 64g
Fibre: 10.8g
Fat: 11.8g
Protein: 3.8g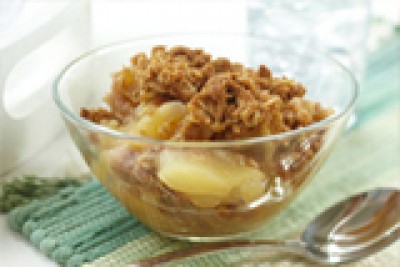 Ingredients
Crisp Topping
1/4 cup (125 mL) All Purpose Flour
1 cup (175 mL) Oats
1/4 cup (125 mL) packed brown sugar
1/4 cup ground flax seed
2 tbsp butter
2 tbsp canola oil
1 tbsp water
1 tbsp vanilla
Fruit
6 cups (1.5 L) sliced granny smith apples
1/4 cup (175 mL) granulated sugar
2 tbsp (30 mL) water
1 tbsp (15 mL) lemon juice
1 tsp cinnamon
Directions
Preheat oven to 375ºF (190ºC)

Topping: Combine flour, oats, brown sugar and cinnamon in medium bowl. Cut in butter with pastry blender or two knives until mixture is crumbly. Set aside.

Fruit: Arrange apples in greased 9" (23 cm) square baking dish or 1 1/2 qt (1.5 L) casserole. Sprinkle with sugar, water and lemon juice.

Sprinkle topping evenly over fruit.

Bake in preheated oven for about 40 minutes, or until fruit is tender-crisp.
Adapted From
http://www.robinhood.ca/recipes/occasions/fall-harvest/apple-crisp