Turkey Meatloaf
Ready in: 40 minutes
Serves: 4
Complexity: medium
Nutritional Info: 3 muffins = 1 serving
kcal: 131
Carb: 8.8g
Fibre: 1.1g
Fat: 4.5g
Protein: 13.3g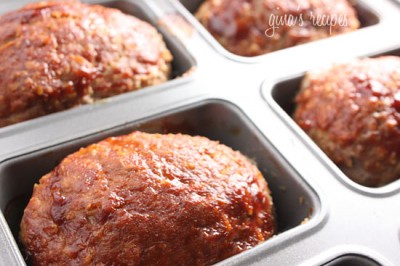 Ingredients
1 1/2 lb. extra lean ground turkey
1 tsp olive oil
1 medium onion, chopped
2 tsp minced garlic
1 tsp dried oregano
3/4 cup tomato sauce
1 cup whole wheat bread crumbs
1 egg
1/2 cup chopped parsley
1/4 tsp salt
1/4 tsp black pepper
1/4 cup low fat Parmesan cheese
Directions
Preheat the oven to 425°F. Heat the olive oil over medium heat in a skillet. Add the onion and cook for 5 minutes. Add the garlic and oregano and cook 2 minutes more and set aside to cool.

Combine the tomato sauce, turkey, breadcrumbs, egg, parsley, salt, pepper and the cooled onion mixture. Thoroughly mix together.

Spray 12 cup muffin pan with cooking spray. Divide mixture into muffin cups and sprinkle with parmesan cheese. Bake for 25-30 minutes.