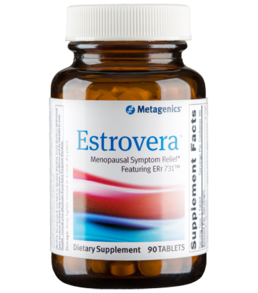 Estrovera - Menopausal Hot Flash Relief
Description
Estrovera™ contains ERr 731™, a special extract of rhubarb root that has been shown in clinical studies to significantly reduce hot flashes and other menopausal symptoms compared to placebo.*


Clinically shown to dramatically reduce the number of daily menopausal hot flashes.*
Clinically demonstrated to relieve a wide range of other menopausal symptoms including:*
Sleep disturbances
Depressive mood, irritability, and anxiety
Physical and emotional exhaustion
Joint and muscle complaints
Urinary tract symptoms
Vaginal dryness
Specifications
Size: 30 & 90 Capsules
NPN: 80026945
Active Ingred.:

Rhapontic Rhubarb Rheum rhaponticum L. Root? Extract (ERr 731TM) ... 4mg

Inactive Ingred.:

Microcrystalline cellulose, stearic acid (vegetable), croscarmellose sodium, silica, and enteric coating (deionized water, cellulose acetate phthalate, glycerol triacetate, ammonium hydroxide, hypromellose, maltodextrin, and polyethylene glycol)

Adult Dose: Take one tablet daily with breakfast with a glass of water or as directed by your healthcare practitioner.
Cautions: Do not use if pregnant or nursing. This product is contraindicated for individuals with any known or suspected estrogen-dependent cancer. If taking medication, consult your healthcare practitioner before use.
Company: Metagenics
Website: http://www.metagenics.com
Notice: This site is not owned or operated by Metagenics, Inc.
Disclaimer
* These statements have not been evaluated by the Food and Drug Administration or Health Canada. This product is not intended to diagnose, treat, cure, or prevent any disease