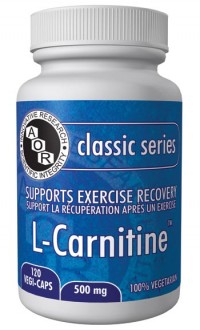 L-Carnitine 500mg 120 Vegi-Caps
Description
L-Carnitine is a derivative of the amino acid lysine that is found naturally in the body. L-Carnitine is an antioxidant for the maintenance of good health. Furthermore, research has shown that L-Carnitine helps to enhance recovery and reduce muscle tissue damage and oxidative stress resulting from exercise stress, when combined with a healthy post-exercise regimen.
Specifications
Strength: 500 mg
Size: 120 Vegi-Caps
Active Ingred.:

Serving Size: 1 Capsule
L-Carnitine (tartrate) .......... 500 mg

Inactive Ingred.:

ascorbic acid. Capsule: hypromellose.

Adult Dose: Take 2 capsules twice daily, or as directed by a qualified health care practitioner.
Cautions: None
Preg/Nursing: Consult a health care practitioner before use
Company: AOR - Advanced Orthomolecular Research
Website: http://www.AOR.ca
Notice: This site is not owned or operated by AOR
Disclaimer
The information and product descriptions appearing on this website are for information purposes only, and are not intended to provide or replace medical advice to individuals from a qualified health care professional. Consult with your physician if you have any health concerns, and before initiating any new diet, exercise, supplement, or other lifestyle changes. Read more...